Historical Content Disclaimer
The content, words, and descriptions contained in the newspapers found on this site reflect the time period when they were created and may include terms and images that are not acceptable today.
Introduction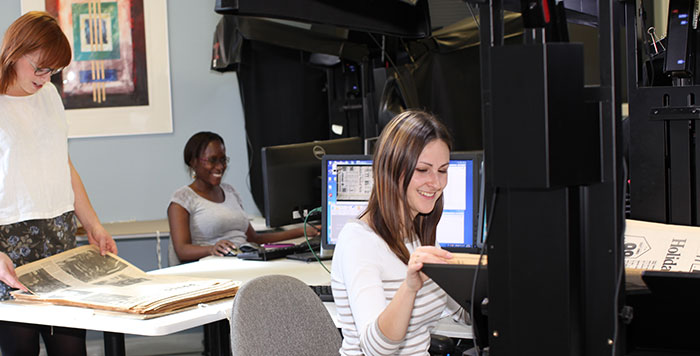 With rapidly changing formats and the widening distribution of news media, tracking the history of provincial news publications has reached a critical juncture.
The New Brunswick Historical Newspapers Project's goal is to centralize all known information and holdings of newspapers published in New Brunswick from the earliest publication of the Royal St. John's Gazette and Nova Scotia Intelligencer in 1783 to present day.  This project is a collaboration between the Council of Archives New Brunswick, the Provincial Archives of New Brunswick, and UNB Libraries, with the support of many libraries and archives across the province. We aim to reinvigorate the New Brunswick Newspaper Directory, originally based upon the 1996 book by Helen Craig, and the subsequent database hosted online by the Provincial Archives of New Brunswick and bring it up to date.  Data on newspaper holdings in all formats—hard copy/ print, microform, and digital—will be collected and staged on the New Brunswick Historical Newspapers Project website, hosted by UNB Libraries.
The New Brunswick Historical Newspapers Project website builds on the original 2009 "Newspapers @ UNB Libraries" platform which indexed all UNB Libraries' Microforms Collection holdings for newspapers, including 739 Canadian and international titles.
With growing interest and demand for online access, the website now hosts over 120 New Brunswick titles digitized by UNB Libraries' Centre for Digital Scholarship. When copies are not available locally, links to external platforms such as Canadiana by CRKN and the Google News Archive may also be provided. Locally digitized content was primarily produced from print and has full text search capabilities through optical character recognition (OCR).
The digitization initiative of preserving and making accessible historical New Brunswick newspapers— beginning in 2011 and ongoing—was conceived to preserve and make accessible newspapers that had been collected by UNB Libraries over many decades. In its final version, the New Brunswick Historical Newspapers Project site will be a central hub for all those wishing to locate, access, and search New Brunswick newspapers for research, curiosity, and reference purposes.
 Learn more about newspaper digitization at UNB Libraries.
 Review Terms of Use for the New Brunswick Historical Newspapers Project.
Project Outreach
Presentation by J. Carter - October 25, 2023 Access 2023 Halifax - NB-Historical-Newspapers-Project-Acess2023.pdf
Presentation by J. Carter, L. Grandy and J. McDermott - October 3, 2023 UNB Libraries' Digital Research Showcase - NBHNPProjectResearchCelebrationFINAL.pdf
Presentation by Leah Grandy and Katrina Swift - June 2, 2023 AGM for the Council of Archives New Brunswick - NBHNPProjectOnline-June2023.pdf
Training Session for Provincial Partners - March 16, 2023
Contact Us
We appreciate your interest in this project and we would be happy to hear from you. 
If you need to report additional information or errors about a particular title in our collection, use the button found on the publication page of each title. This will help identify the exact title you are writing about.

Questions regarding access to non-digital holdings and reference questions should be directed to the holding institution found in the "? Info" link on the holdings statement.